Moving can be incredibly stressful, especially for the elderly. However, it happens very often. Whether it's for downsizing, relocating to be closer to loved ones, moving to a place that has more natural beauty, or moving into a senior living community, or for any other reason, the elderly usually struggle to handle the relocation, both physically and mentally. These essential moving tips for seniors are crucial for a stress-free process, so make sure to read them carefully and put them to good use.
Decide when it's time to downsize
When kids grow up, spread their wings, and fly off into the world, many seniors find themselves stuck in a large house that requires a lot of work, cleaning, and maintenance. They usually have multi-story homes, many vacant rooms, and large bills, which start to cause them headaches. Deciding to sell your home and downsize is never easy, even though it has some obvious benefits, such as:
Stretching your budget

Less time spent on house upkeep

More accessible layout
Seniors who decide to downsize are usually relieved since navigating a small house or apartment is much easier. Also, paying lower bills lets them save some money, and they need to spend much less time keeping their home tidy.
Planning and preparation are crucial
Moving is challenging for the elderly and their families emotionally, as well as logistically. That's why one of the crucial moving tips for seniors is proper preparation. It's a good idea to start your home search before there's any urgency for moving. Seniors need to have enough time to pick out the perfect place and choose the right location with enough amenities and services, care options, etc. The main part of planning involves researching:
Different types of houses and apartments

Retirement communities

Assisted living communities, etc.
To decide which option meet the majority of their needs, seniors need to visit few different properties, get a feel for the environment and ask some crucial questions. A final decision will also depend on the costs of living at each option. So, one option may be a better fit than another, depending on the budget.
Declutter your home and sort your belongings
When moving to another home, the main thing that makes the process easier is decluttering. Seniors should get rid of all furniture, clothes, and possessions that they no longer need. Then, they should set aside must-have items and items with particular sentimental value that they want to see regularly. So, take a systematic approach and start with one area of your home at a time. Don't make the mistake of getting rid of all the things you love - keep those that are useful or meaningful. The rest can be donated, sold, or thrown away (if something is broken, damaged, or completely useless).
The more you get rid of before your move, the easier and quicker it will be to fit everything into your new, downsized home. If there are many things to be sorted out, you should accept the help of your family member or a friend. Then, go through this step together.
Prepare yourself emotionally
In addition to the logistical side of the process, there's also the emotional side of moving. Moving can be overwhelming, especially for those who lived in the same place for a long time, raised their children there, and made plenty of family memories. People tend to have a lot of positive associations built up around their homes, so it's essential to focus on all the benefits of a move. It's an opportunity for positive change, meeting new people, and finding a balance between independence and care.
It's normal to feel a bit sad, confused or anxious, but don't fear your emotions but embrace them instead. Also, opt to keep a positive attitude about your upcoming relocation and remember the many advantages of that transition. Once you settle into your new home, it's important to maintain a daily routine and become active in the new community. It will help you cheer up and look forward to your new life.
Hire professional movers
After you've decided to downsize, found the perfect place, decluttered your home, and sorted your belongings, it's time to organize the moving day. One of the essential moving tips for seniors is to hire professional movers. They can help with every part of this task and provide all the services needed, such as packing, offering a storage unit, and transporting your belongings. Efficient and safe moving practices will ensure a fast, stress-free move, and all your items will be secured and protected.
Be safe on moving day
When the moving day arrives, you need to make sure everyone and everything is safe. Luckily, when you have reliable and sufficient help, you won't get injured or suffer severe back strain (which is typical during DIY moves). Just make sure there's always a clear path into and out of your home. Furthermore, if you have any pets, keep them away from your home on moving day.
In addition, you shouldn't forget to take care of your nutritional needs. Don't skip meals on moving day, and make sure you're well-hydrated. You need to have enough energy for the whole day.
Settling into your new home
It can take a while to adjust to your new environment after a move. You need to adapt to your new home, new beautiful neighborhood, and new daily routines. So, take your time to properly settle and be patient with yourself. Slowly decorate your new space, make it as comfortable and familiar as possible. Don't forget to call or visit your family members and friends often. Friendly faces and voices will make this significant transition much easier to handle.
The bottom line
If you follow these moving tips for seniors, your relocation will be as successful and stress-free as possible. When you evaluate your situation carefully, assess the amenities and support you may require, accept your emotions, and don't forget the crucial steps of ample research and methodical planning, you're very likely to have a positive experience. 
However, if you need some help with finding your perfect home, or selling your current one, make sure to reach out to Glenn Tinturin, a trusted real estate broker with years of experience. With the help of his team, your house-hunting process will be entirely stress-free, so that you can start relaxing and enjoying your golden years!
Today, many people are asking themselves if they should buy or sell a home in 2020. Some have shifted their plans or put them on hold over the past couple of months, and understandably so. Everyone seems to be wondering if the market is going to change and when the economy will turn around. If you're trying to figure out what's going to happen and how to play your cards this year, you're not alone.
This spring in the 2020 NAR Flash Survey: Economic Pulse, the National Association of Realtors (NAR) has been tracking the behavior changes of homebuyers and sellers. In a reaction to their most recent survey, Lawrence Yun, Chief Economist at NAR, noted the beginnings of a turn in the market:
"After a pause, home sellers are gearing up to list their properties with the reopening of the economy…Plenty of buyers also appear ready to take advantage of record-low mortgage rates and the stability that comes with these locked-in monthly payments into future years."
What does the survey indicate about sellers?
Sellers are positioning themselves to make moves this year. More than 3 in 4 potential sellers are preparing to sell their homes once stay-at-home orders are lifted and they feel more confident, which means more homes will start to be available for interested buyers.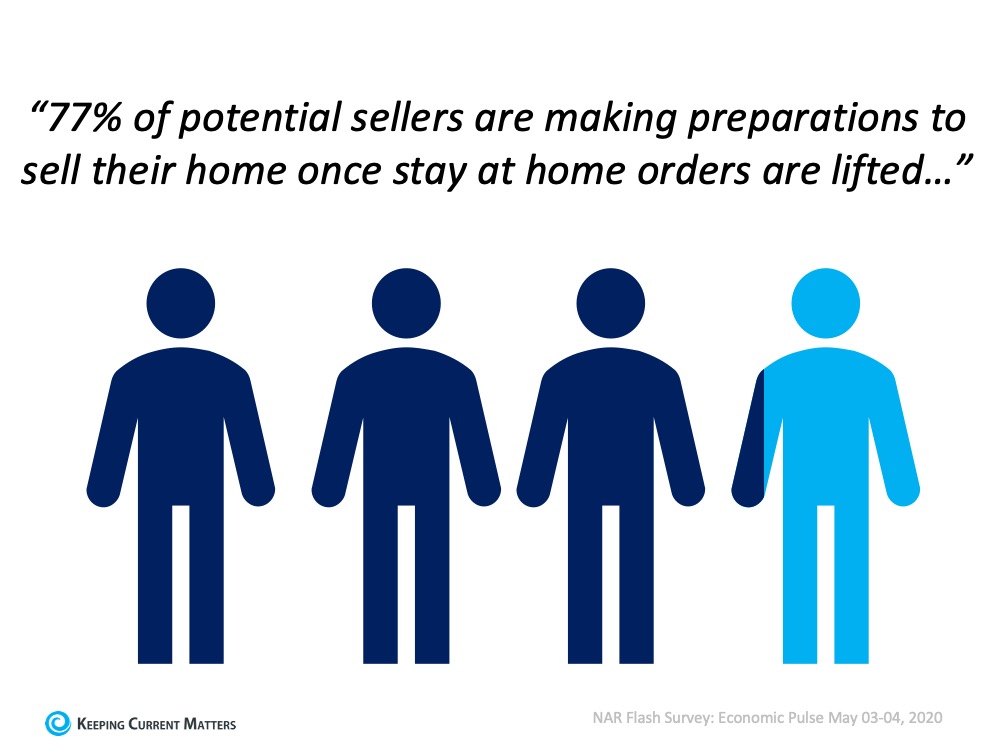 Just this week, Zillow also reported an uptick in listings, which is great news for the health of the market:
"The number of new for-sale listings overall has shown improvement, up 5.9% last week from the previous week. New listings of the most-expensive homes…are now seeing the biggest resurgence, up 8%. The uptick is likely a sign sellers are feeling more confident because of improving buyer demand, as newly pending sales have also jumped up during the same period."
What does the survey note about buyers?
The recent pandemic has clearly impacted buyer preferences, showing:
5% of the respondents said buyers are shifting their focus from urban to suburban areas.
1 in 8 Realtors report changes in desired home features, with home offices, bigger yards, and more space for their families becoming increasingly important.
Only 17% said buyers stopped looking due to concerns about their employment or loss of a job.
As we've mentioned before, buyer demand is strong right now, and many are simply waiting for more inventory to become available so they can make a move, especially as the country begins to reopen.
Bottom Line
If you're thinking about putting your house on the market, contact a local real estate professional today. There's a good chance an eager buyer is looking for a home just like yours.
April is typically prime time for real estate—the spring market is in full swing and buyers and sellers are out in full force. Not this year. 
Due to the spread of COVID-19, real estate practitioners have had to adjust how they do business to continue helping buyers and sellers who are transacting during this changed market. But how much has actually changed? The new April Monthly Housing Trends Report from realtor.com® sheds some light on the impact the pandemic has had on today's housing market. The results show that many sellers have decided to wait out the crisis.
The biggest indicator the markets have shifted? Listings are down, and by a significant amount—April saw a 44.1 percent decline in newly listed homes. Local trends also reflect the areas hardest hit by the coronavirus. The Northeast, for example, which currently has some of the strictest coronavirus guidelines in place, also experienced the biggest drop in new listings by region, at 59.4 percent. Next up is the Midwest, which had a 49.5 percent decline, followed by the West (a 44.1 percent drop) and the South with a 31.4 percent decrease. 
The Milwaukee and Detroit Metro areas saw the biggest declines in new home listings—90 percent and 75.3 percent YoY, respectively. Restrictions in place at the local level may be putting a pause on the markets. 
"We're a little hand-tied here in Michigan because real estate is deemed non-essential. We can do business virtually, but a buyer couldn't see a house if they wanted to, said Jeff Glover, founder, Live Unreal Inc. Family of Companies, in an RISMedia interview.
Showing much less impact are Virginia Beach (15 percent), Nashville (16.1 percent), and Minneapolis (18.3 percent) Metro areas. 
Along with sellers waiting to list, many also chose to take their homes off the market, pushing home sales in the U.S. down 15.3 percent YoY. In terms of inventory, April's dip accounts for about 189,000 listings less than what was available on the market last year at this time
Not CALHFA
No Income Limits
Don't have to be 1st Time Homebuyer
640 Fico
30 Year Fixed
Great Rates
Closing Costs can be Gifted
Conforming Loan Limits Apply:

OC:  726,525
LA:  726,525
San Diego:  690,000
Riverside/San Bernardino:  484,350

5 Tips for Starting Your Home Search
2.1K
In today's market, low inventory dominates the conversation in many areas of the
country. It can often be frustrating to be a first-time homebuyer if you aren't prepared.
Here are five tips from realtor.com's article, "How to Find Your Dream Home—Without
Losing Your Mind."
1. Get Pre-Approved for a Mortgage Before You Start Your Search
One way to show you're serious about buying your dream home is to get pre-qualified
or pre-approved for a mortgage. Even if you're in a market that is not as competitive,
understanding your budget will give you the confidence of knowing whether or not your
dream home is within your reach. This will help you avoid the disappointment of falling
in love with a home well outside your price range.
2. Know the Difference Between Your 'Must-Haves' and 'Would-Like-To-Haves'
Do you really need that farmhouse sink in the kitchen to be happy with your home
choice? Would a two-car garage be a convenience or a necessity? Before you start
your search, list all the features of a home you would like. Qualify them as 'must-
haves', 'should-haves', or 'absolute-wish list' items. This will help you stay focused on
what's most important.
3. Research and Choose a Neighborhood Where You Want to Live
Every neighborhood has unique charm. Before you commit to a home based solely on
the house itself, take a test-drive of the area. Make sure it meets your needs
for "amenities, commute, school district, etc. and then spend a weekend exploring before you
commit."  And your first step is to contact Glenn Tinturin at 909.663.7811 or via this website.
Recently, we reported that many believe a recession could happen within the next two years. We explained that 70% of economists and market analysts surveyed last year believe that a recession will occur in 2019 or 2020 and that 42% of consumers currently looking to purchase a home also agree that a recession will occur this year or next.
However, the U.S. economy has performed well in the first quarter of 2019 and that has caused some experts to change their thinking on an impending economic slowdown.
Here are a few notable examples:
"I feel really comfortable that the economy is slowing down this year, but not going into a recession… It doesn't look, to me, like the odds of a recession in 2020 are there."
 "To sum up the general picture, the U.S. economy is definitely weakening… However, with wages growing at a respectable pace, and job growth remaining healthy, we should see enough consumption demand to keep the economy moving forward. That means slower growth, but no recession."
"I'm not convinced a recession is coming soon… I see an improving housing market (low rates help), a rebound in bank lending, a tight labor market, higher oil prices and well-behaved credit markets. All these point to a stable U.S. economic outlook."
Bottom Line
We are seeing a stronger economy than many had predicted. That has caused some experts to push off the possibility of a recession further into the horizon
Subcategories