Today, many people are asking themselves if they should buy or sell a home in 2020. Some have shifted their plans or put them on hold over the past couple of months, and understandably so. Everyone seems to be wondering if the market is going to change and when the economy will turn around. If you're trying to figure out what's going to happen and how to play your cards this year, you're not alone.
This spring in the 2020 NAR Flash Survey: Economic Pulse, the National Association of Realtors (NAR) has been tracking the behavior changes of homebuyers and sellers. In a reaction to their most recent survey, Lawrence Yun, Chief Economist at NAR, noted the beginnings of a turn in the market:
"After a pause, home sellers are gearing up to list their properties with the reopening of the economy…Plenty of buyers also appear ready to take advantage of record-low mortgage rates and the stability that comes with these locked-in monthly payments into future years."
What does the survey indicate about sellers?
Sellers are positioning themselves to make moves this year. More than 3 in 4 potential sellers are preparing to sell their homes once stay-at-home orders are lifted and they feel more confident, which means more homes will start to be available for interested buyers.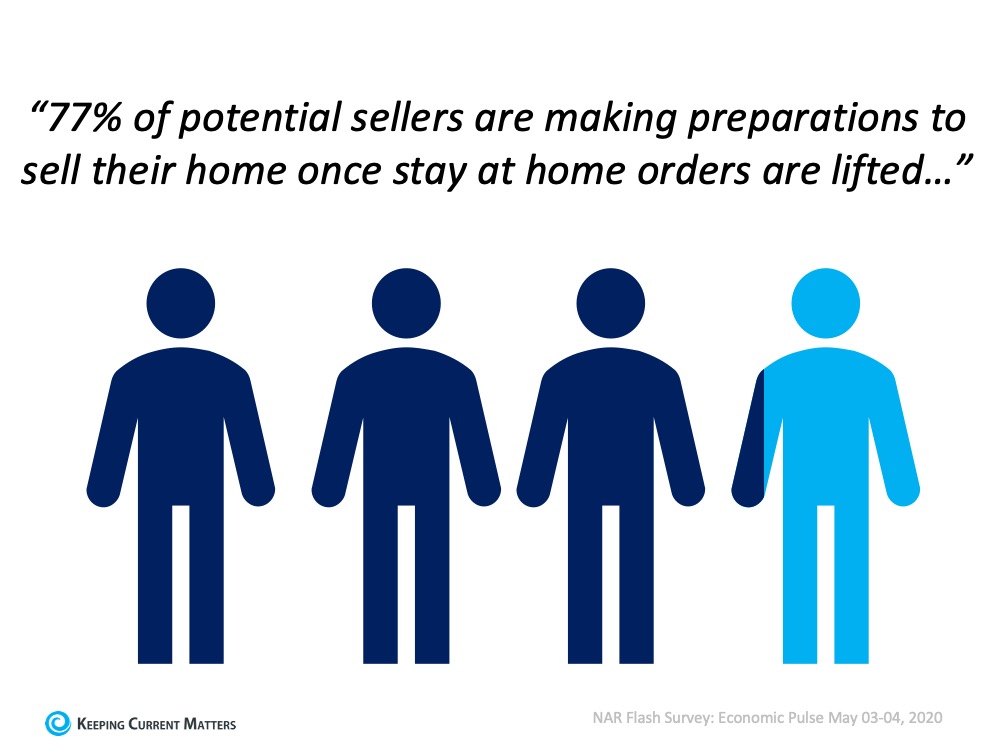 Just this week, Zillow also reported an uptick in listings, which is great news for the health of the market:
"The number of new for-sale listings overall has shown improvement, up 5.9% last week from the previous week. New listings of the most-expensive homes…are now seeing the biggest resurgence, up 8%. The uptick is likely a sign sellers are feeling more confident because of improving buyer demand, as newly pending sales have also jumped up during the same period."
What does the survey note about buyers?
The recent pandemic has clearly impacted buyer preferences, showing:
5% of the respondents said buyers are shifting their focus from urban to suburban areas.
1 in 8 Realtors report changes in desired home features, with home offices, bigger yards, and more space for their families becoming increasingly important.
Only 17% said buyers stopped looking due to concerns about their employment or loss of a job.
As we've mentioned before, buyer demand is strong right now, and many are simply waiting for more inventory to become available so they can make a move, especially as the country begins to reopen.
Bottom Line
If you're thinking about putting your house on the market, contact a local real estate professional today. There's a good chance an eager buyer is looking for a home just like yours.
April is typically prime time for real estate—the spring market is in full swing and buyers and sellers are out in full force. Not this year. 
Due to the spread of COVID-19, real estate practitioners have had to adjust how they do business to continue helping buyers and sellers who are transacting during this changed market. But how much has actually changed? The new April Monthly Housing Trends Report from realtor.com® sheds some light on the impact the pandemic has had on today's housing market. The results show that many sellers have decided to wait out the crisis.
The biggest indicator the markets have shifted? Listings are down, and by a significant amount—April saw a 44.1 percent decline in newly listed homes. Local trends also reflect the areas hardest hit by the coronavirus. The Northeast, for example, which currently has some of the strictest coronavirus guidelines in place, also experienced the biggest drop in new listings by region, at 59.4 percent. Next up is the Midwest, which had a 49.5 percent decline, followed by the West (a 44.1 percent drop) and the South with a 31.4 percent decrease. 
The Milwaukee and Detroit Metro areas saw the biggest declines in new home listings—90 percent and 75.3 percent YoY, respectively. Restrictions in place at the local level may be putting a pause on the markets. 
"We're a little hand-tied here in Michigan because real estate is deemed non-essential. We can do business virtually, but a buyer couldn't see a house if they wanted to, said Jeff Glover, founder, Live Unreal Inc. Family of Companies, in an RISMedia interview.
Showing much less impact are Virginia Beach (15 percent), Nashville (16.1 percent), and Minneapolis (18.3 percent) Metro areas. 
Along with sellers waiting to list, many also chose to take their homes off the market, pushing home sales in the U.S. down 15.3 percent YoY. In terms of inventory, April's dip accounts for about 189,000 listings less than what was available on the market last year at this time

5 Tips for Starting Your Home Search
2.1K
In today's market, low inventory dominates the conversation in many areas of the
country. It can often be frustrating to be a first-time homebuyer if you aren't prepared.
Here are five tips from realtor.com's article, "How to Find Your Dream Home—Without
Losing Your Mind."
1. Get Pre-Approved for a Mortgage Before You Start Your Search
One way to show you're serious about buying your dream home is to get pre-qualified
or pre-approved for a mortgage. Even if you're in a market that is not as competitive,
understanding your budget will give you the confidence of knowing whether or not your
dream home is within your reach. This will help you avoid the disappointment of falling
in love with a home well outside your price range.
2. Know the Difference Between Your 'Must-Haves' and 'Would-Like-To-Haves'
Do you really need that farmhouse sink in the kitchen to be happy with your home
choice? Would a two-car garage be a convenience or a necessity? Before you start
your search, list all the features of a home you would like. Qualify them as 'must-
haves', 'should-haves', or 'absolute-wish list' items. This will help you stay focused on
what's most important.
3. Research and Choose a Neighborhood Where You Want to Live
Every neighborhood has unique charm. Before you commit to a home based solely on
the house itself, take a test-drive of the area. Make sure it meets your needs
for "amenities, commute, school district, etc. and then spend a weekend exploring before you
commit."  And your first step is to contact Glenn Tinturin at 909.663.7811 or via this website.
Recently, we reported that many believe a recession could happen within the next two years. We explained that 70% of economists and market analysts surveyed last year believe that a recession will occur in 2019 or 2020 and that 42% of consumers currently looking to purchase a home also agree that a recession will occur this year or next.
However, the U.S. economy has performed well in the first quarter of 2019 and that has caused some experts to change their thinking on an impending economic slowdown.
Here are a few notable examples:
"I feel really comfortable that the economy is slowing down this year, but not going into a recession… It doesn't look, to me, like the odds of a recession in 2020 are there."
 "To sum up the general picture, the U.S. economy is definitely weakening… However, with wages growing at a respectable pace, and job growth remaining healthy, we should see enough consumption demand to keep the economy moving forward. That means slower growth, but no recession."
"I'm not convinced a recession is coming soon… I see an improving housing market (low rates help), a rebound in bank lending, a tight labor market, higher oil prices and well-behaved credit markets. All these point to a stable U.S. economic outlook."
Bottom Line
We are seeing a stronger economy than many had predicted. That has caused some experts to push off the possibility of a recession further into the horizon
Not CALHFA
No Income Limits
Don't have to be 1st Time Homebuyer
640 Fico
30 Year Fixed
Great Rates
Closing Costs can be Gifted
Conforming Loan Limits Apply:

OC:  726,525
LA:  726,525
San Diego:  690,000
Riverside/San Bernardino:  484,350
Transform Your Bed and Bathrooms with Simple and Easy Solutions
Change can be a good thing. It can give us new perspective or liven up something that feels old or outdated. If your life needs a bit of vivaciousness, consider transforming your bed and bathrooms with fresh décor. Follow these tips to get going.
Think Color
Color can impact how we feel — this is calledcolor therapy. It boils down to the idea that warm colors inspire energy while cool colors bring about a sense of calm. Changing the hues of your bed and bathrooms can reinvent your space. However, rather than paint your bedroom walls robin's egg blue, update your accents. A large dose of a specific color, especially one that is bright or unusual, can be overwhelming. Instead, focus on décor to make your space calming or energizing. A royal blue throw can complement light gray walls and make your bedroom peaceful. Forest green bath towels can make a bathroom unique without being inundating.
Sleep Better
If you have had trouble resting, it might be time to turn your bedroom into a sleep sanctuary. Many items can both aid in relaxation and bring a touch of class to your master bedroom. Above all, think of your own comfort. First, examine your bed. Are your sheets breathable? Linens made from natural fabrics can keep you cool at night while also providing comfort. Heavy, dark curtains can keep you asleep by blocking light at night. Soothing scents from an oil diffuser can nurture calmness after a long day. White noise machines and alarms that ease you to sleep with guided meditation can help lull you into sleep gently.
Live Luxuriously
Sometimes, we want a bit of glamor in our lives. Adding some elegance to our bathrooms is the perfect way to achieve that. Updating your mirror is a good place to start. Avoid traditional shapes like rectangles in favor of something more modern. Choose new handles for your cabinets to give them an entirely new look and match them to another aspect of your bathroom, such as the light sconces or the artistic frame around your mirror. This can add cohesion and make your space look designed. An automatic soap dispenser brings ease and modernity to the bath, no matter its age. To give yourself a futuristic feel, get a waterfall shower head that has a Bluetooth speaker. You'll feel like you're in the lap of luxury without breaking the bank.
Update Artwork
Art can make a house feel like a home. These don't need to be grand pieces, but subtle enhancements around the home to spice up your décor. Gazing at art can actually help keep you healthy, so they are valuable additions — but measure your walls before you buy. For instance, if you hang a painting above your bed, make sure it is smaller than the furniture. Larger art pieces above smaller furniture will look out of sorts. You also don't need imposing pieces; instead, consider a series of small photographs or paintings arranged together. This creates interest, and you may be less likely to tire of multiple images than a single feature.
Bring More Light
Nothing uplifts the way light can. A great approach to make your home feel new or fresh is investing in fixtures. Add a small crystal chandelier in the bathroom to elevate it; modern sconces are also tasteful.Frosted glass can give ambient light to help you unwind in your bedroom. Try an overhead light in the bedroom as a statement or art piece. Neon lights can harken back to a favorite aesthetic and remind us of our most-loved films. Whatever you choose, make it something that reflects your taste.
It does not take much to make a space feel new. This is a chance for a fresh start at home, and it needn't be expensive. Add a few touches here and there, and enjoy your house all the more.
Image Courtesy of Pexels
Subcategories